---
Build your own guitar
So you want to build your own electric guitar? Excellent. You're in the right place. Start here and then read our interview with guitar builders to find out how to start.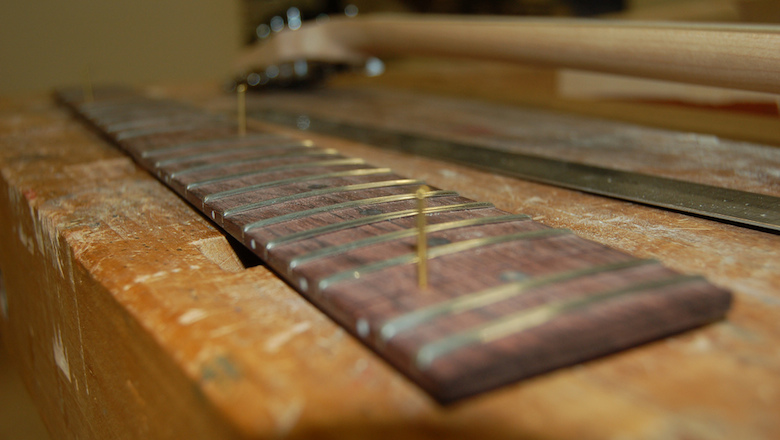 It's an exciting but daunting prospect, isn't it? The thought of starting from scratch, choosing the wood for the body and neck, cutting, planing, drilling, and putting the whole thing together. Or to put it another way, the thought 'build your own guitar.'
Get it right and you'll have a beautiful-looking, terrific-sounding, and completely unique guitar. Get it wrong and… ,well we won't go there.
If you really want to build your own guitar, though, the best place to start is with people who are already doing it. We've spoken to lots of them. People like Ken Francis, Chris Sundlof, and Joe Naylor. And they all have one thing in common. Do you know what it is?
They all had a first. Everyone who has ever made a guitar started somewhere. Most knew little about how to get going, although some had help and others read Melvyn Hiscock's 'Make Your Own Electric Guitar.' (That's a good tip; get a copy).
Another tip is, before you start to build a guitar, set up a few, fix a few. Get a feel for how guitars are put together. Steve Benford of Benford Guitars put it like this 'The setup is the most important aspect of guitar building in my opinion. Anyone with some decent tools, some math skills and patience can build a guitar. Its getting it to play and feel right when its done is the challenge. Before I really started building, I'd had worked on and set up a TON of guitars.'
Sean Rufus Wiliams of Rufus Guitars took another route. 'I had a Japanese Les Paul copy, a Satellite, when I was about 13 or 14. I took it to bits, stripped it, painted it blue and fitted Di Marzio humbuckers - it was terrible! I later did a similar thing to a Japanese Jedson Tele - painting it black and fitting a humbucker in to the pick-guard between the neck and bridge pickups. That worked out a little better.'
Whether you set up other people's guitars or buy cheap guitars that need fixing up so you can strip them down and customise them, the key is to practice working with the instrument and get to know how its put together.
When it comes to where to spend your budget when you build your own electric guitar, most builders we've spoken to agree with Andrew Essink of AE Guitars 'money spent on quality tools is money well spent, however when you are first starting its hard to tell what tool will be best and which you may need or not.  So getting started think about something you really want to accomplish, research tools and methods, and start there.'
However you start, make sure you do your research. The interviews here (under Guitar Builders in the menu at the top of the page) will help. So will Hiscock's book. And when you're ready to start, remember one thing… enjoy it, thats the whole point after all.
Image by
Danforth1