---
Epiphone re-introduces SG double-neck 
It's one of the most iconic electric guitars ever made and now its available to buy again.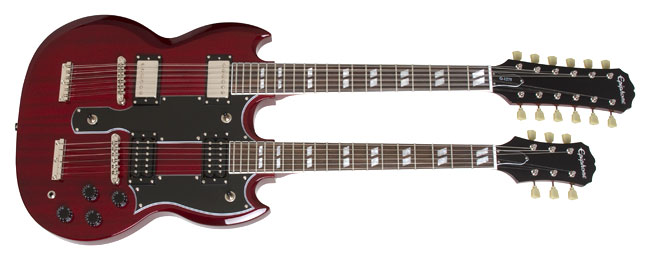 The Gibson SG 1235 is a classic. Immediately recognisable, and famous as the guitar Jimmy Page played on Stairway to Heaven, the cherry red SG has both six string and twelve-string necks.
While it's next to impossible to find an original 1235, there have been limited edition re-issues over the years. The latest is part of Epiphone's 40th anniversary celebrations. It's one of several limited editions announced at the beginning of May 2014, and is joined by a Union Jack Sheraton, similar to the one made famous by Noel Gallagher, and released to mark 50 years since the British Invasion began with the Beatles arrival in New York. There's also a Les Paul Joe Bonamassa special in Pelham Blue. 
A Caballero small-bodied acoustic in both ebony and mahogany, and a new edition of the Jack Casady bass round out the range.
But its the SG 1275 which will attract the most interest. It's mahogany body has a flame maple top and two glued in mahogany necks. Both necks have Alnico Classic humbucker pickups at the neck and Alnico Classic Pro humbuckers at the bridge. The six string pickups are open. In addition to tone and volume controls and pickup selectors for each neck, there's a master three-way pickup selector which activates he six-string, twelve-string, or both.
The Loctone bridges are complemented by 'Claw' tailpieces which Epiphone says ' yields incredible sustain.'
Epiphone hasn't said how many SG 1275's will be available or how long they'll be available for, but their bound to be in huge demand. It's not for everyone, and it's certainly not your everyday goto guitar but for a special occasion, or to make an impression on an audience, the double-neck SG is hard to beat.