---
Voodoo Turkey's magnificent relic guitars
Replica relic guitars have become big business for Fender in recent years. But what about indie builders? Step up, Voodoo Turkey.
In our never-ending quest to bring you, dear reader, as much detailed information on the business of building guitars as we possibly can, we spoke to Simon from Voodoo Turkey about building replica relic guitars.
We started, naturally enough, by asking Simon how he got started. 'I have been involved in building guitars for around 20 years now, but have been concentrating on the relic side of things for around the last 10 years,' explained Simon.
'I got started because i just could not afford to buy a Fender Custom Shop relic guitar, so I decided to build one for myself, and then for friends, and then people started showing a real interest in what i was doing, so it sort of snowballed from there really.'
Ok, so that's the 'how' sorted, but we were still keen to know why Simon focused on relics. 'I really didn't like fenders versions of replicas,' said Simon. 'I didn't really like the Fender Custom Shop S.R.V relic, and i was shocked at the Rory Gallagher replica relic they built. They just didn't look real enough for me, so i decided to have a go myself. Don't get me wrong, I am a massive fan of Fender guitars, they build sublime guitars, just one or two replica relics were a bit lazy.'
Talking of that Fender SRV, we noticed Simon has a couple on the Voodoo Turkey website. 'I am a massive fan of Stevie Ray Vaughan, I have his autograph as well, they are just terrific looking guitars to build,' he explained.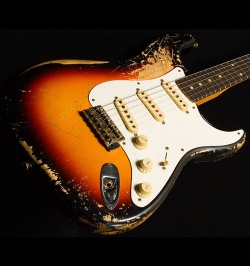 We wouldn't be doing our job if we didn't at least try to uncover the secret to the dark art that is ageing a guitar. So, we just came straight out and asked. 'Well ageing a guitar body is a real art to be honest. The trick is to always use nitro paint, and spray it paper thin, the rest is top secret!But i can tell you there is a lot of coffee involved.' At this point we obviously tried asking Simon to unveil his secret, but no matter how we asked, or how often, he wouldn't give it up. Foiled again.
As for the future for Voodoo Turkey, Simon explained 'I'm building a guitar for a Mr Ryan Mcgarvey, which i hope to give him later this year when he is over here on tour, which will be fantastic. I'm a massive fan of his playing, and his band, but I would really like to just carry on making relic guitars. I would like to work with customers who want something a bit different, something more signature to them. I just love what i do, and love talking guitars to guitarists. Its not a job or a chore to do this for a living. i just love it.'
And long may you keep doing it, Simon.
You can see more Voodoo Turkey guitars on its website.
And you can follow on Twitter: @voodooturkey