---
Hughes & Kettner Tubemeister 18
Hughes & Kettner pioneered the lunchbox amp trail 25 years ago, with the Cream Machine, Crunch Master and Blues Master, but the Tubemeister 18 is hard to beat.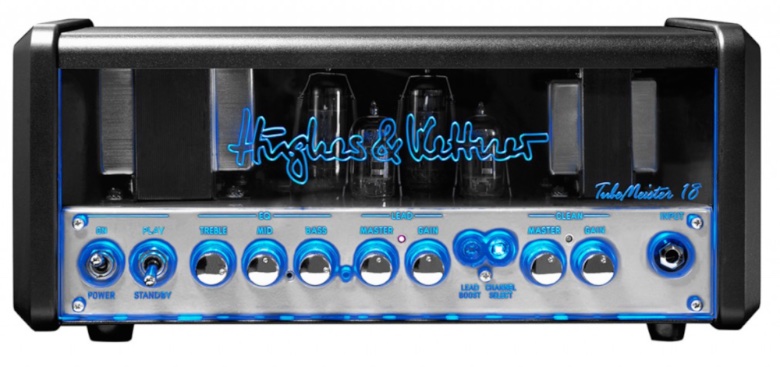 There's no mistaking a Hughes & Kettner amp, and the Tubemeister 18 is no exception. Perspex front providing a view of the valves inside? Check. Blue LEDs lighting up the controls? Check. Lots of shiny metal everywhere? Check.
Like we said, there's no mistaking the Hughes & Kettner Tubemeister 18. But there's much more to this tube amp than its distinctive looks. Peek through the perspex front and you'll see two 12AX7 tubes and two EL84s flanked by the input and out transformers which account for most of the amp's 5kg weight.
Hughes & Kettner Tubemeister 18 inputs
The single input has two channel options, Clean and Lead, and each has its own master and gain controls. They share the bass, middle, and treble controls, but the EQs are voiced differently for each channel. 
The channel selector its on the amp's front panel along side a switch marked Lead Boost which, as it's name suggests, takes the Lead channel up a notch to provide a high-gain tone. On the rear panel, you'll find a serial effects loop which allows you to insert effects between the pre- and power-amps, divert the pre-amp output to a different power amp, or hook up a different pre-amp to the Hughes & Kettner Tubemeister 18's power amp. Also on the back panel is an input for the optional footswitch and the all-important Power Soak which allows you to pull-down that 18W power output to 5W, 1W, or even 0W. 
The back panel is also home to the Tube Safety Control, a Hughes & Kettner innovation which shuts down a valve if it develops a fault, lights an LED to tell you it's done it, and allows you to continue playing. The TSC also adjusts bias between the valves to improve tonal quality and extend the power tubes' life. 
That all-important tone
So how does it sound?
Here's what Sound on Sound said in its review: 'The TubeMeister 18 sets a benchmark for this class of amplifier and it would take something very special to beat it. As its marketing slogan — 'Rock on Stage, Play at Home, Record at Night" — implies, it's more than capable of rocking it out on stage, of being attenuated to a level that won't annoy family and neighbours and of being used in its 'silent' mode as a DI'd recording source. It offers genuine flexibility to the gigging and recording guitarist, with the bonus that the TSC system maintains optimum valve bias for tone and longevity.'
And Premier Guitar: 'Hughes & Kettner did a fantastic job designing and building the TubeMeister 18. It serves up great tones in a portable package that's very accessibly priced. It has a high-fidelity tinge that's typical of many other Hughes & Kettner amps— which means it won't replace or replicate the unique voices of a vintage Fender or Marshall—but in terms of quality, flexibility, and diversity of tones, it's one of the best small-wattage amps out there.'
Perhaps not an amp for those who's taste and playing style demands a vintage tone, then, but for everyone else, the Hughes & Kettner Tubemeister 18 looks like its well-worthy of consideration.
We've posted a video review from Paul Glover on the Guitar Hive blog. Click here to see it.