---
JC Harper on building guitars for Buck Dharma, Eric Bloom and Sammy Hagar
His guitars have been played by Joe Satriani and Kenny Wayne Shepherd. And he counts Sammy Hagar, Eric Bloom and Blue Oyster Cult's Buck Dharma among his clients. He's JC Harper.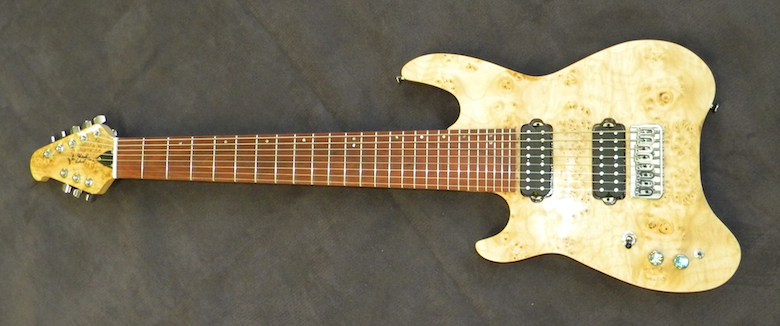 Like many people who start their own business, it was adversity which finally pushed Jon C Harper into building guitars. 
'I started building guitars back in 1992 after I was laid off from my job as a quality assurance manager in the aerospace industry. At the time just couldn't find another job and the ones that I did find I was given the age old excuse that I was over qualified and wouldn't be happy,' he explained to Guitar Hive. 'So after some contemplation and the fact that I had always tinkered around with guitars, I decided to give it go with producing some of my own designs and custom work.'
The first build
Not many luthiers can say, hand on heart that they were completely happy with there first build, but Harper's first guitar, the Monterey, has been played by Eric Bloom (pictured), Joe Satriani, and Kenny Wayne Shepherd.
'It was kind of a Teleish/EVH design but with a smaller body. Basswood, Lacewood bookmatched top, maple neck with purple heart fingerboard, Gotoh Floyd rose, 2 DiMarzio humbuckers and just a volume control and three way toggle – was really into Van Halen at the time so that influenced my early builds,' Harper told us.
Don't ask me to name my favourite
With more than twenty years of building guitars, asking JC Harper to choose a favourite was perhaps a little unfair, but we did it anyway. 'Hard question, as there have been several.'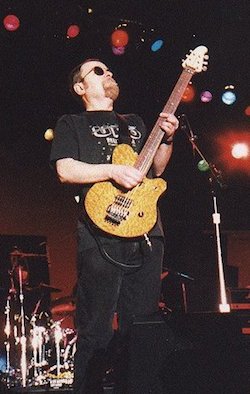 We persisted. 'The one I did for Sammy Hagar. Eric Bloom's Signature guitars… But the Buck Dharma 40th Anniversary model guitar is a current favorite. I've been doing a signature guitar for Buck since 1999 and this latest version incorporates a little of the design features from the SGs he used to play years ago and on this model you can get the first album art graphic. It's just a more refined version of the first Buck Dharma model with a slightly larger body and pickups that lend themselves to a broad range of playing styles. Also I'm proud to say that this guitar is constructed with as many North American sourced materials and parts as possible. From the alder body, maple neck with figured black walnut fingerboard, to the DiMarzio pickups, Hipshot bridge and Spezel tuners it's over 99% North American sourced and produced.'
And once Harper had warmed to the theme, we couldn't stop him. 'I can't leave out…There are five Eric Bloom Signature guitars including a custom logo shaped guitar hanging in various Hard Rock establishments around the world. These I am very proud of and are some favorites as well.'
The Blue Oyster Cult influence
With clients like Bloom and Dharma pitching in with their ideas, Harper's guitars are anything but run of the mill. 'Some of my more interesting clients ideas were a 12 string neck-thru bass, a 26 fret 8 string left handed Buck Dharma model, a flying V type made to resemble horns with a snakeskin graphic, and Eric Bloom's BOC logo-shaped guitars,' said Harper. 'If they can think it up I usually can come up with something. I have done designs that a lot of builders just don't want to take on.'
A few words of advice
As for novices like us thinking about starting our first build, Harper's advice is straightforward: 'Do your research on construction. There are some decent books out there on construction, get one or more and read. Be original. Be patient, you will make mistakes and don't get frustrated when you do make a mistake. You will find that a big part of being a luthier is the ability to correct mistakes and deal with the idiosyncrasies of a living breathing thing called wood.'
And that ever elusive tone? 'Component fit, attention to tolerances and alignments, good quality woods that have no punky or inconsistent densities, and of course good hardware and pickups. It all works together and if you can get them working together, that is what tone and resonance is all about.'
As ever when we talk to luthiers, Jon Harper's advice is both excellent, and generous. And, as you can see from the pictures, his guitars look every bit as good as they sound.