---
Meet the Mod Duo digital effects pedal
The Mod Duo is a digital effects pedal like no other and its open platform means there are endless possibilities.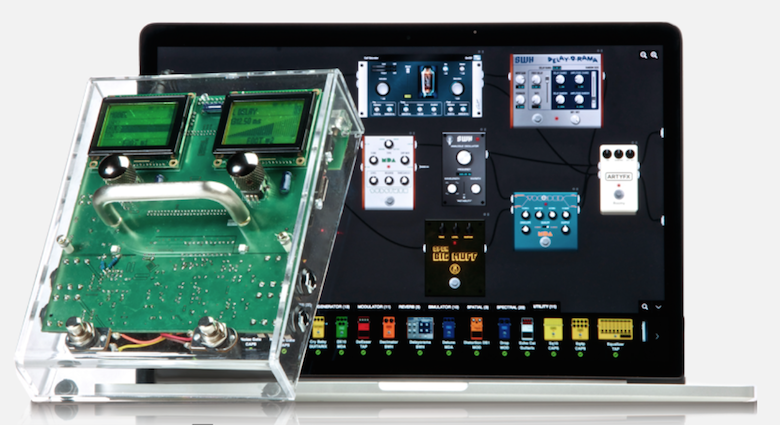 The Mod Duo from Portal Mod is a digital effects pedal that's a little different from most. It has a couple of footswitches, two robust control knobs, a foot bar, two quarter-inch audio inputs and two outputs, and support for MIDI. So far, so not out of the ordinary.
Where the Mod Duo differs, however, is in what's inside – an ARM processor powered circuit board that's been designed specifically for audio. You can see it in the picture, above, through the perspex housing. That housing, by the way, will be replaced by a metal chassis in the shipping models. The circuit board allows you to to configure effects on a tablet or laptop, connected by Bluetooth, and assign them to the Mod Duo. 
Effects
Effects are created using the Linux-based LV2 open platform, so there's already an enthusiastic developer community and lots of effects available. Effects can be shared with other users and downloaded over the Internet to a device. The control application is HTML-based and accessed via a web browser so will work on whatever tablet, smartphone or computer you like.
And it doesn't stop there. You can connect other devices to the Mod Duo, including those you make yourself. Portal Mod says it has worked with Arduino to create an Arduino Shield which allows you to connect an Arduino board to the MOD Duo and uses Portal Mod's proprietary Control Chain platform to hook the two together.
Arduino
Control Chain platform to hook the two together.
With a little creativity you could, for example attach sensors to the Arduino and have them control the effects on the MOD Duo. A motion-controlled overdrive anyone? What about wah wah controlled with a light sensor? The possibilities are intriguing.
If you want the wah wah without Arduino, Portal has an expression pedal available as an optional extra.
The Mod Duo is available via Kickstarter, starting today (17 September) and earl-bird backers get it for $299, which is $100 less than its list price.
---
Also on Guitar Hive...
Build the perfect pedal set up
Whether you're making your own board, or just hooking a few pedals up in sequence, a little bit of knowledge goes a long way.