---
Thomas Lieber: The Apprentice turned luthier
Thomas Lieber began his journey as a luthier 45 years ago. It's fair to say, then, that he knows a thing or two about building guitars.

Thomas Lieber's Butternut guitar.
Guitar builder Thomas Lieber has been making instruments for close on half a century. Naturally we wanted to pick his brains and find out what it takes to become a great guitar maker and how he recommends others get started. 
We began by asking him how it all started. 'It all began with the maintenance and eventually modification of my own instruments about 45 years ago! I served a formal apprenticeship 40 years ago with Master Luthier Doug Irwin. In those days you needed to either search out and study under a Luthier or find employment with a major guitar manufacturer. There were no schools teaching courses in guitar construction,' explained Lieber.
As for his inspiration, Lieber explained that it was 'the arrival of the Beatles in 1964.' That happened just as Lieber was becoming interested in the world around him, and in particular, girls. 'As a good lemming of the times, I understood that if you wanted to get the girls you needed to play a guitar.  I started on a six string guitar - a red-colored, two-pickup Hagstrom. One day when my older brother's band had finished practicing in our basement; I crept downstairs and found a black Hagstrom bass lying about! I picked it up, we became one and a bassist was born,' Lieber remembered.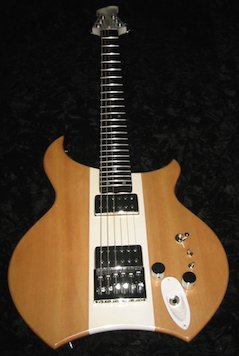 Thomas Lieber's Spellbinder.
Once Lieber had picked up a bass that was it, but it was one bass player in particular who was to prove a key influence. 'A 1972 Guitar Player July/August issue had an article about "Jack Casady's $4,000.00 Revolution'"' he explained. 'It was a moment of synergy. Jack Casady, the bassist whose sonic needs outgrew the production model bass, enabling him to forge a revolution in bass guitar technology and refinement. My only problem at the time was that Jack's project was still in the dream state and the cost was far from a price point I could ever afford.'
So Lieber put the magazine down and got on with his life. 'Two years after the article I decided I would have to learn to build one for myself. Today I find that many amateur players/builders recreate the designs Doug and I built for Jerry Garcia for similar reasons.'
'Doug' is Doug Irwin, who became Lieber's tutor and mentor. 'June of 1974 my wife and I traveled out to California from New York. I approached Alembic and was denied an apprenticeship. George Munday's (designed the Alembic electronics with Ron Wickersham) brother who worked at the Alembic retail store in San Francisco, mentioned to me that there was a fellow who used to work for them who had recently struck out on his own.'
That fellow was Irwin. 'His shop was north of San Francisco and he was working out of a chicken shack in a sleepy town called Santa Rosa. I figured, "What the hell?" I had come a long way and needed to learn the guitar building process/construction techniques Alembic was practicing. So I asked, "Who is this guy and where is he?" His name is Doug Irwin, Jerry Garcia recently purchased one of his guitars (Wolf) which gave him the incentive to go it alone!'
It too some persuading, but eventually Lieber convinced Irwin to take him on as an apprentice. 
'We moved the shop to a larger location after the first year. It was at this new shop that Jerry Garcia's "Tiger" and Pete Sears' "Dragon" were born. Our new ornamental guitar designs "The Garcia" (Tiger) symmetrical and asymmetrical, "The Pendulous" and "The Firedrake" were drafted by Doug and I upon the coffee table in his living room of the old farm house in Santa Rosa,' Lieber told us. 
The first guitar Thomas built himself was that Dragon for Pete Sears.
Christ Stein of Blondie plays Lieber's Butternut guitar.
With more than 40 years' experience under is belt, Lieber is well-placed to advise beginners on how to build a guitar. 'If you are a career Luthier you understand that the most important part in creating a new guitar is to have an inspired client. Aside from that, I would say that preparation and planning of a project are the essential elements. Building the guitar after that has been accomplished is merely procedural.'
As for where to spend the money, Lieber explained 'I would advise new builders to seek out a seasoned Luthier to apprentice alongside. Most apprenticeships are unpaid positions. So you need to save money to support yourself while you take advantage of your academics within the field.'
All the money in the world won't buy you great tone, though. 'I heard Jerry Garcia firsthand playing a B-grade guitar, its frets wrongly positioned etc…not much of a functioning guitar but it sounded exactly like quintessential Jerry in his hands. The magic is mostly in the musician. A refined instrument enables your playing technique to be more subtle in its execution making the whole playing experience a pleasant one!'
And with that memory of Jerry Garcia lingering, we left Thomas Lieber to his workbench and next project, mulling over the thought that the apprentice is now very definitely the sorcerer.
---
Barking up the right tree
Building a guitar is all about the wood, something that Sean Rufus Williams from Rufus Guitars was keen to point out when we spoke to him about what makes a great guitar.