---
Gibson Flying V Guitar
The Flying V guitar is either associated with the rock bands of the seventies or with Albert King, depending on your musical preference. But how did it come to be?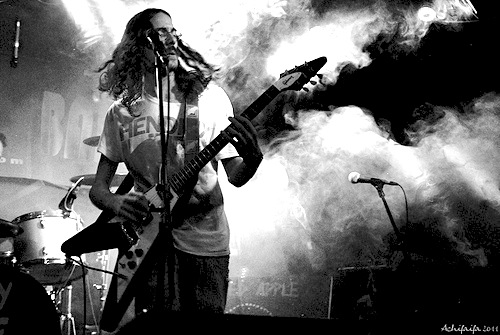 The Gibson Flying V guitar was one of a pair of distinctive, futuristic designs which the company produced in 1958. The other was the Explorer, which shared its siblings' straight edges and acute angles.
Intended to portray the company as forward-looking and ultra-modern, neither guitar sold well and both were dumped in 1959. By then, however, the Flying V guitar already had fans, notably Lonnie Mack and Albert King. In fact King played his for most of the rest of his life and can be seen in many performances playing it left-handed. By the mid-sixties, Dave Davies of the Kinks and Jimi Hendrix had also fallen for its charms, and the resultant demand from fans persuaded Gibson to restart production.
Originally made from korina, the body and neck of the re-issued version, which launched in 1967, were made from mahogany. Original Vs from the 1958-59 period are among the rarest and collectable guitars on the planet and were valued at up to quarter of a million dollars in 2011.
By 1978 Gibson was keen to cash in on the popularity of the V and launched the V2, which had a layered, 3D-effect, walnut and maple body. For a short time, the V2 even had boomerang-shaped pick-ups, though these proved unpopular and were quickly ditched. The V2 itself was eventually dropped in 1982 after disappointing demand.
In 2007, in one of the oddest decisions made by a guitar company, Gibson launched a reverse Flying V guitar which had the neck fixed to the apex of the 'V' shape. Limited to a run of 400 units, the reverse V quickly sold out, and the following year, Gibson released another 900 to celebrate the 50th birthday of the original V.
Gibson and Epiphone both currently make a 1958-style V based on the original korina models. 
Image by
Achifaifasama
on Flickr.