---
Jimi Hendrix's Woodstock Strat
Jimi Hendrix's Woodstock Strat is one of the most iconic guitars in rock. Here's its story, in the first of a Guitar Hive series on legendary guitars.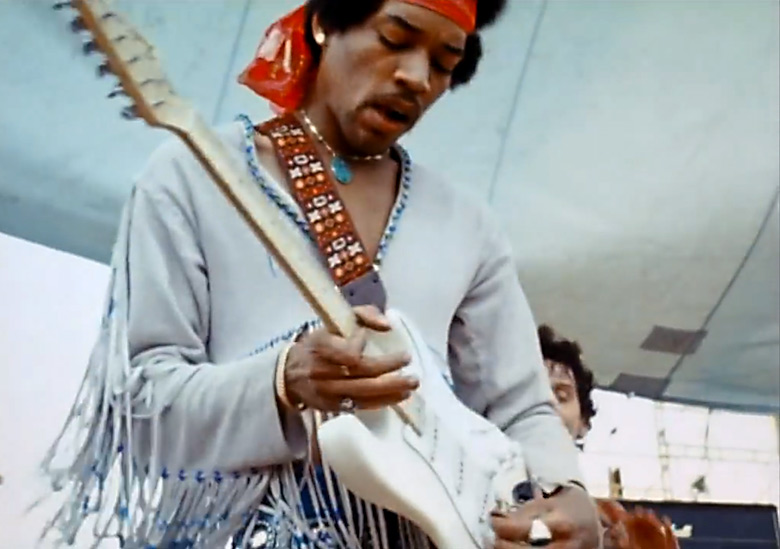 It's an iconic moment in rock music history, although few realised it at the time. Jimi Hendrix stands on stage at Woodstock, Strat slung over his right shoulder, and launches into a coruscating, life-changing, epoch-defining version of the Star Spangled Banner. The audience, initially at least, were stunned though by they end they were fully onboard with Hendrix's anti-war statement, conducted on six strings and an amp.
Visually it may not have had the impact of another defining moment in Hendrix's career two years earlier, when he poured lighter fluid on his guitar on-stage at the Monterrey International Pop Festival and set fire to it. 
The guitar Hendrix used to play the Start Spangled Banner that day was a cream-coloured Fender Stratocaster which has since become known as Jimi Hendrix's Woodstock Strat. It's a 1968 'Olympic White' Fender Stratocaster with an alder body and maple neck and fretboard. As Hendrix did with other guitars, he flipped the Woodstock Strat, reversed the nut, and strung it to suit a left-hander. 
Hendrix bought the guitar from Manny's Music store in New York, according to Experience drummer Mitch Mitchell. As well as Woodstock, the great man played it at the Newport Festival the same year and in his last gig at the Open Air Love & Peace Festival in Fehmarn, Germany in 1970. That concert was released as a live album, Live at the Isle of Fehmarn, in 2005.
The Hendrix Woodstock Strat after Hendrix
Shortly after the show, Hendrix gave the guitar to Mitchell. 'I had given him a drum kit as a present some time before and I said to him "I'll have that guitar before you break it up" (I do not think that he would in fact have broken this particular guitar). He said, as was his way "You got it" and he then gave me the guitar. In retrospect I think it was by way of a gift as my daughter had just been born a few days previously,' recalled Mitchell in a letter of provenance to Sotheby's auctioneers in 1990.
Mitchell also declared that the Woodstock Strat hadn't been out of his possession since that day in 1970. At the auction in 1990, it was bought by one Gabriele Ansaloni for the then astronomical sum of £198,000 (around $300,000). Ansoloni kept it for two years before selling it on to Microsoft co-founder Paul Allen for a sum believed to be north of $2m. Allen housed it at The Experience Music Project in Seattle, Washington, the musem he founded to showcase the history of rock n roll music. And it's on display there to this day.