---
Make your own cigar box guitar
'So I went ahead and made me a guitar. I got me a cigar box, I cut me a round hole in the middle of it, take me a little piece of plank, nailed it onto that cigar box, and I got me some screen wire and I made me a bridge back there and raised it up high enough that it would sound inside that little box, and got me a tune out of it. I kept my tune and I played from then on.'
Lightnin' Hopkins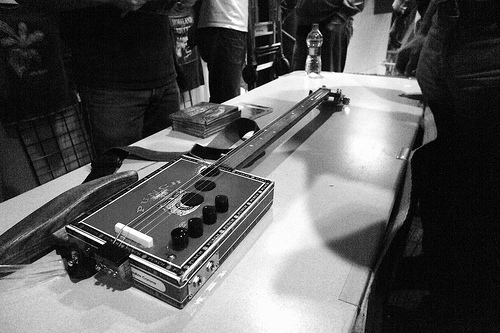 Whether, like us, you've watched spellbound as Seasick Steve plays his home made guitar, or rather, one of them, or you just want a relatively easy way to build your own guitar, these old-fashioned home-made guitars are a perfect weekend project.
This type of home made guitar stems from as early as the mid-19th century when cigar manufacturers started packing cigars in boxes, rather than crates or barrels. It wasn't long before enterprising musicians started to use the cigar boxes, often attached to a broom handle, as the resonator on a guitar or violin.
Cigar box guitars were important in the early days of the blues, when workers in the fields of Mississippi had no option but to make their own instruments. The were often seen along with wastub basses in jug bands. The Great Depression of the 1930s saw a rise in their popularity again, followed by a dip until the recent renaissance.
As well as Lightnin' Hopkins and Seasick Steve, other guitar players known to have played these rustic gutars include Billy Gibbons, Tom Waits, and Paul McCartney.
There are lots of resources online to help you make your own. Cigar Box Nation claims to be the '#1 resource for cigar box guitars' but there's also Cigar Box Guitars and this article on Make magazine is well worth a look. 
Image by
Ted Van Pelt
on Flickr.