Marlow Guitars
by Steven Marlow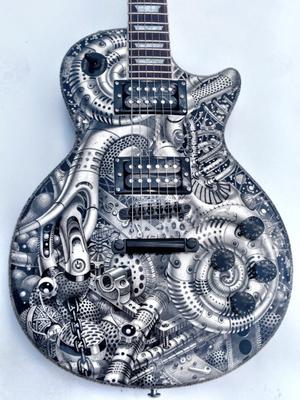 Marlow Guitars is the child of a 30+ year obsession with one of the most iconic and versatile musical instruments ever created. Having spent most of this time playing and tinkering with guitars Steven Marlow is now building professional quality guitars full time from his workshop in London.


Steven says: "From the magical moment I opened the guitar case and picked up a guitar for the first time I was captivated. The feel of the body, the neck, the sound, the emotions it generated felt electric beyond the pickups and circuit - an extension of the self, making a visual and audible statement that would to some extent define me".
Marlow Guitars is about realising the unique companionship each player has with their instrument and creating something that will become a lifelong love affair.
Every handmade Marlow Guitar is crafted and built with an obsessive eye toward the perfect balance of form and functionality.
When it comes to building a guitar there are certain principles that need to be understood. With so many variables Steven aspires to the idea that building stringed instruments is not a science but an empirical art, Stradivarius being an obvious example.
The combination of all the variables used such as the woods, hardware, technique, tools, finish etc create an infinite amount of possibilities that ensure a unique
sound from each instrument.
It is virtually impossible to replicate the same instrument twice. Having said that the art of the luthier is about setting an audible, visual and aesthetic benchmark to aspire to.
Marlow Guitars build high end professionally guitars with this principle in mind. While we have a good idea of what is trying to be achieved audibly and visually each guitar remains completely unique and its build is based as much on feeling as practical technique.
It seemed a logical progression to further refine the uniqueness and beauty of each instrument by introducing original art on the guitars.
Marlow Art Guitars work in collaboration with cutting edge artists to create truly unique "one of a kind" guitars and works of art. Working only with artists who inspire and whose work would complement our instruments.
Most artists are either well established or highly talented emerging artists at the forefront of the urban art scene. Marlow Art Guitars therefore represent an excellent investment opportunity as well as being professionally quality instruments.
Marlow builds by hand in a small workshop in London and works closely with each customer to create and realise a bespoke specification guitar that will hopefully bring them a little piece of the same magic that brought him to build guitars.
You can see some of my work here
www.facebook.com/marlowguitars