Snap Dragon Guitars
by Gerry Dale
(Chelmsford UK)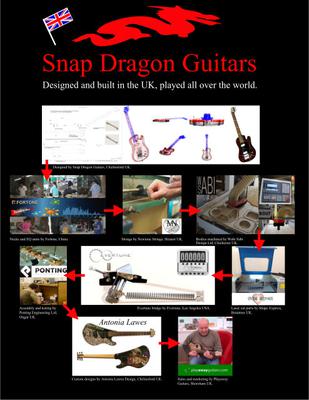 How we make our instruments
We only build original design folding travel guitars. All our instruments are built to give a great playing experience but also defeat the toughest, meanest airline carry on policy, so you can take them as hand baggage.


The folding system has no sliding or rotating locks to break no dismantling of the neck just plain simple open and close self locking and unlocking mechanism.
Five ranges include two basses and three models with the amazing Evertune bridge that keeps the instrument in tune at all times.
All instruments are designed and built in the UK from components made locally where ever possible or in the USA and China.
Visit Snap Dragon Guitars's website here:
www.snap-dragon-guitars.co.uk