Sundlof Guitars
by Chris Sundlof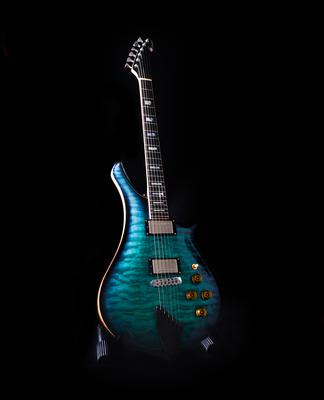 Harpoon in quilted maple
About Us


Based just outside Washington D.C., we are makers of all original, handmade electric guitars. We use the finest materials and craftsmanship to create edgy yet tasteful works of art that not only play beautifully, but also look as amazing as they sound. Our goal is to create a guitar as unique as you and a playing experience like nothing else.
Our Designs
Harpoon
Elegant, edgy, ergonomic, and completely unique are the attributes we had in mind when creating our flagship guitar. We invented a new way of creating electric guitars by giving players all the benefits of a neck-through body, but with the aesthetics and playability of a set neck guitar. This is because all Harpoons have an angled neck and headstock. Not an easy accomplishment when building a neck-through, but we wanted to give our customers a guitar that played and sounded like nothing else.
From its ergonomic balance, to its perfect fingerboard accessibility, to its head turning looks and outstanding tone, Harpoon is destined to become the tonal voice of a new generation. See more photos of Harpoon at www.sundlofguitars.com.
Sundlof II
How do you create something radical yet elegant, stylish, and timeless? You begin with styling cues that pay respect to luthiery heritage and then stretch your imagination. The Sundlof II is a stylistic departure from typical electric guitars, but then again we don't make typical guitars. A blend of classical styling combined with modern flare, sound, and functionality define this guitar's look and feel. From jazz to metal, the Sundlof II is confident on any stage.
From its painstakingly hand carved body, to its distinctive sound, to its stunning presence, the Sundlof II embodies beautiful elegance in a radical way. See more photos of Sundlof II at
the Sundlof Guitars website